back to homepage | back to calendar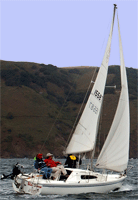 boatmaster: Dan Pease 594-1786 after 6:00 pm most evenings
A note from Dan Pease:
Special thanks to Jim Gillety, Kristin Rasmussen, Barry Stewart and Bill Dyer Writing up SLO Sloop Survey results. Important job for planning for the future of a Club Boat.
Also Jim and Barry helped remove old Yamaha engine In Jan. Barry inspected it and managed to sell it for twice the estimated value.Club purchased a new 4hp Suzuki 4 stroke. Jim and I placed on SLO Sloop Fri. March 24th and removed 2 gallons of water from the bilge. Not bad considering all the heavy weather we've experienced.

All locks are in working order and a small fuel can with funnel are in hatch on starboard lazarette. New engine holds about 1 liter of fuel or aprox. 3/4 hour of operation.

In the paperwork (V Berth) is operator sheet to learn about fuel on/off choke, etc. PLEASE READ BEFORE OPERATING ENGINE. Thanks again to SLO SLOOP CREW!
Skipper Sweggy: March 25, 2017